LORD SHANKAR SEEN ON THE FLOOR
There was chaos in Sohnipatti under Nagar police station area on Tuesday evening
when the figure of Lord Shankar emerged in a house in the locality.
It is being told that Lord Shankar's figure has suddenly emerged on the floor of the house.
In a short time, this thing spread like a wildfire in the locality and
a crowd of hundreds gathered at the house of local resident Buta Sah.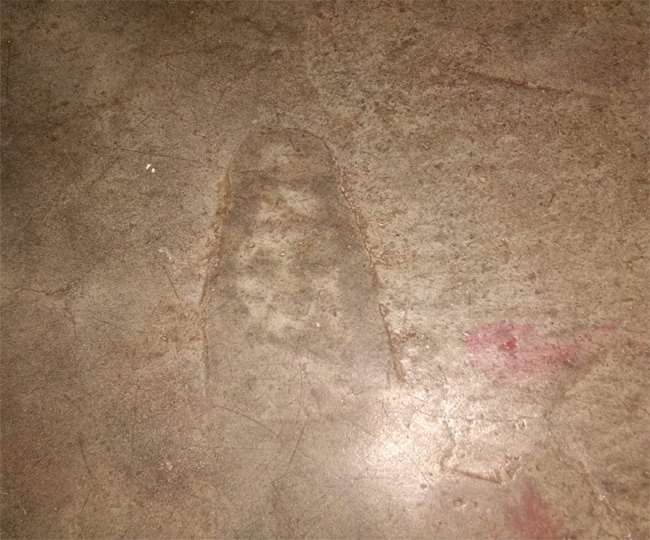 Meanwhile, as soon as the information was received, people reached
the spot and started shouting Lord Shiva. Many women also started worshiping.
Seeing the large number of people, someone informed the police.
On receiving the news of the incident, Police Station Ranjit Kumar Sadal-Bal first reached the spot,
removed the crowd and after examining the figure itself,
as a precautionary room was immediately closed in which the figure of Lord Shiva was said to emerge.
According to the local people, the visible figure on the floor of the room is clearly the form of Lord Shiva.
In which face, eyes, nose, mouth, everything is clearly visible.
Some people even tried to scrape the picture to test the truth of the figure,
but it had no effect on the figure.
The homeowner Buta Sah told that his wife has been suffering from smallpox for three days,
and since then she was repeatedly saying about the arrival of God in the house.
Meanwhile, on Tuesday, while suddenly passing through the room,
a glimpse of a figure was found on the floor. A closer look of Lord Shiva was clearly seen.
The truth behind this is not yet clear.
The SHO said that do not give it much weight.
Let us tell you that in the corona transition phase,
where the whole world is in the grip of epidemic.
On the other hand,
many stories of superstition are being fabricated in different parts of the country including Buxar.
Read more: click here